Here at Ashland Addison, a dreamy classic wedding always helps us stay warm during the cold months of winter in Chicago. Recently we were brought to Saint John Cantius Church, a historic and baroque Chicago church. There we created overflowing and impactful European-style designs featuring, blush and white hydrangea, peach and blush stock flowers, 'Tiffany' and faith roses and cascading seeded eucalyptus.
The Bridal bouquet showcased a classic collection of white flowers including patience garden roses, Blanc de Blanc garden roses, dusty miller and silver brunia. The bridesmaid's bouquets showcased an arrangement of pink & peach flowers including darling amyrillis, Juliette garden roses and esther roses. Again, silver brunia and dusty miller flowers were added for greenery and silver accents.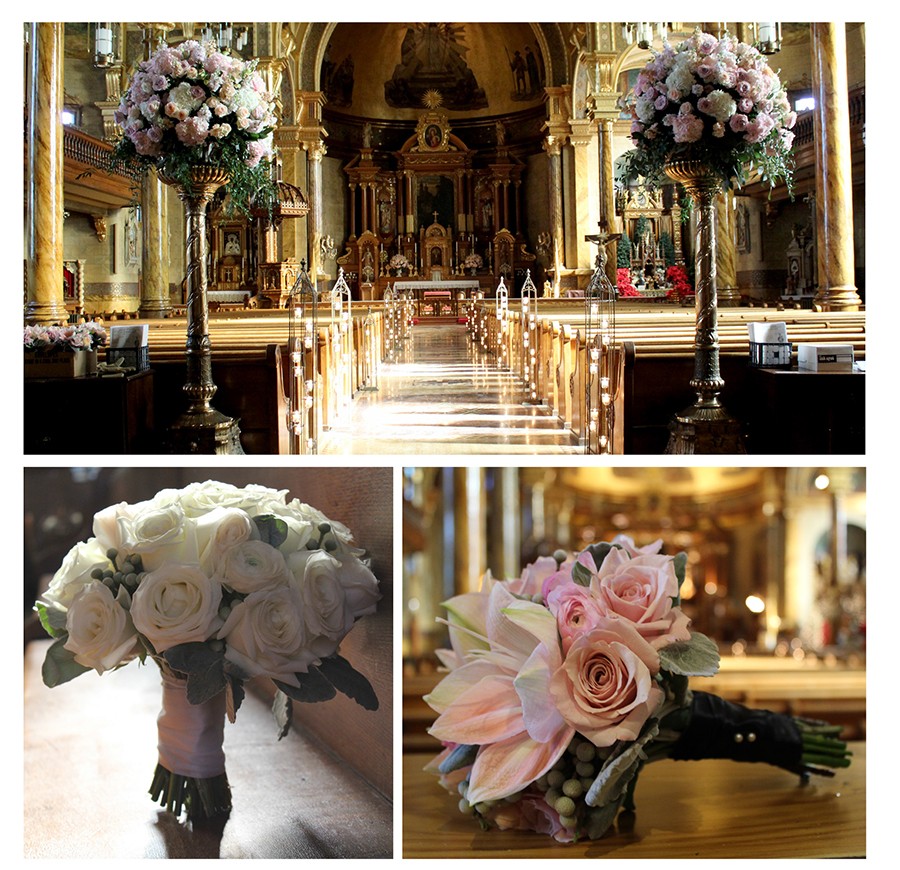 The reception was held at Ukrainian Cultural Center – a blank slate for Ashland and Addison to transform into an enchanting wedding. With proper draping, lighting, linens, and of course the perfect floral design, any room can be transformed into a whimsical and magical winter wedding.
White chiffon draping created an illusion of two separate areas in the same ballroom. The first area was for a cozy cocktail reception and another for the dinner and dancing. Chandeliers hung from the grand entrance into the ballroom. When entering into the dining area you were embraced by candlelight, pin spot and warm lighting. To pull it all together, the back wall was covered in sheer white chiffon with white Italian lights.
To match the mood of the ballroom, all the table designs were very romantic with an eclectic display of candles and flowers. The first table design featured "Penelope" bowls with lush flowers. The flowers included blush hydrangeas, white stock, 'Tiffany' and 'Juliette' garden roses, and faith and esther roses. Silver brunia and dusty miller flowers were used as accents. Surrounding these overflowing bowls of flowers were vintage silver candlesticks and votives. The second design featured "Zoe" candlesticks with pillar candles surrounded by a collection of petite posies in pink, gold and silver mercury vases with complimentary flowers.