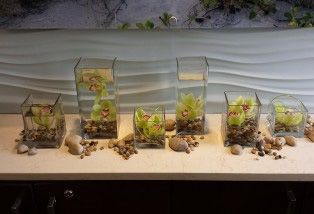 Fresh flowers inspire! They foster creativity! These blooms designed by Jonas in our Event department sure made the room more beautiful!
When our friends at Swedish Covenant Hospital invited us to help add special touches to their important corporate event, Jonas found inspiration from art work and color already within the meeting spaces. His addition of orchids completed the look under the beautiful piece of art already placed in the space.
In the meeting room, the colorful design featuring orchids, delphinium and hydrangea in a modern design perhaps inspiring attendees!
Research shows that fresh flowers in the workplace promote innovation and ideas. Texas A&M research shows this to be true. "Our research shows that a change as simple as adding flowers and plants can be important in the most meaningful way to businesses in the modern economy," said Dr. Roger Ulrich, lead researcher on the project. "People's productivity, in the form of innovation and creative problem solving, improved – which in certain circumstances could mean the difference between mild and great business success.
Foster creativity and inspiration at your corporate events. Accent with flowers!
Source: aboutflowers.com, Society of American Florists